Sports
Outdoors there is ample space to go running, play football, badminton and basketball. The onsite gardens and lakes provide an ideal environment for leisurely evening walks. Indoors the college has three table tennis tables and a dartboard and we have access to the well equipped gym of Thailand Post at subsidised rates.
Shopping
Within 2km there are Big C and Tesco Lotus supermarkets. There are a number of local shopping facilities on the many Sois (side streets) that line Chaeng Wattana Road and every two weeks there is a two day market onsite.
On the day of arrival attendees will be taken to one of the supermarkets to purchase essential items for their stay.
International Food Festival
All courses of 3 weeks and longer host an International food festival. It is a unique opportunity to cook and share national cuisines with fellow participants. Attendees are encouraged to wear national dress to make the festival an extra special occasion. Each festival also includes performances from those wishing to show off their singing/ dancing skills
Sports Day
The course sports day is a great team building event incorporating a range of indoor and outdoor activities. The highlight is the tug of war where the only rule is there is no rule. The success of the sports day is measured in smiles rather than winners and losers!
Weekend Trips
Thailand has a wealth of interesting places to visit and we aim to give a taste of what this wonderful country has to offer. From floating markets to shows to wonderful beaches and scenery, Thailand has a little of everything. We provide a wide variety of options to suit every taste.
Bangkok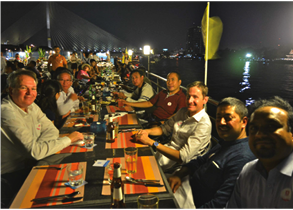 Bangkok has so much to offer. Visits to the Grand Palace, the Golden Buddha and the many Wats ensure a rich cultural experience. Trips to budget, boutique and luxury shopping centres and the JJ market are a must. Thai massage and Thai nightlife should also not be missed